---
Electronic DIY projects, educational electronics content and hobbyist electronics site!

---
Usb Electronic Kits

Explore simple and amazing electronic projects and learn useful things about the world of electronics.
Download schematics and pcb layouts for free! Give your idea for a project! Let your DIY spirit guide you!
Travel into the world of electronics!!!
Enjoy the pleasure of creation!!!
Explore some projects
!
Get ready DIY kits!
Usb Electronic Kits can be familiar for everyone!


The kits use only familiar electronic components!General purpose transistors and op-amps and generally "found everywhere" electronic parts!

View the datasheets.

The kits are easily assemblied by anyone due to the pcb construction and the silk on it.

They have sort number of parts!CLICK HERE

for soldering techniques!

Choose the way you prefer to power up your kits.You can power up them via a simple type B usb cable a 9V battery or any other dc iput from 6.5 to 30 VDC!.Not only a 9 volt battery!Find out ways

HERE

!

You can combine together two projects (e.g. clap switch+rgb mood lamp) or you can use one of them to your application!



---
Site map

Feel free to join our company and to give us your mentions.
Facebook, twitter, youtube ,email and more!

---

Find video tutorials, snaps and tables (pictorials), soldering techniques and answers for a lot of wonders you have about the world of electronics.


---
flag counter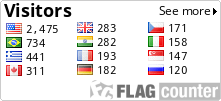 Usb Electronic Kits